Greening Digital #3 - What service design in a climate emergency looks like
The one written back in Berlin, after Chris got married, got permanent residence, and finally got some sleep.
The one written back in Berlin, after C got married, got permanent residence, and finally got some sleep.
Hello folks, and welcome to issue 3 of Greening Digital, back from my experiment in using an interrail pass for low carbon business travel around Western Europe, for two months solid.
Here's the menu for today:
Service Design in a Climate Emergency - Inspired by the activity on the #designandclimate hashtag, a workshop to explore what greening service design can look like.

Greening the Cloud - Positive, measurable steps for reducing emissions, and good work being done around the world

Link Grab Bag - developments that caught my attention, and are worth monitoring in future.

Feedback - what made you sign up to this? Help me out - let me know.
3.1 Service Design in a Climate Emergency this Friday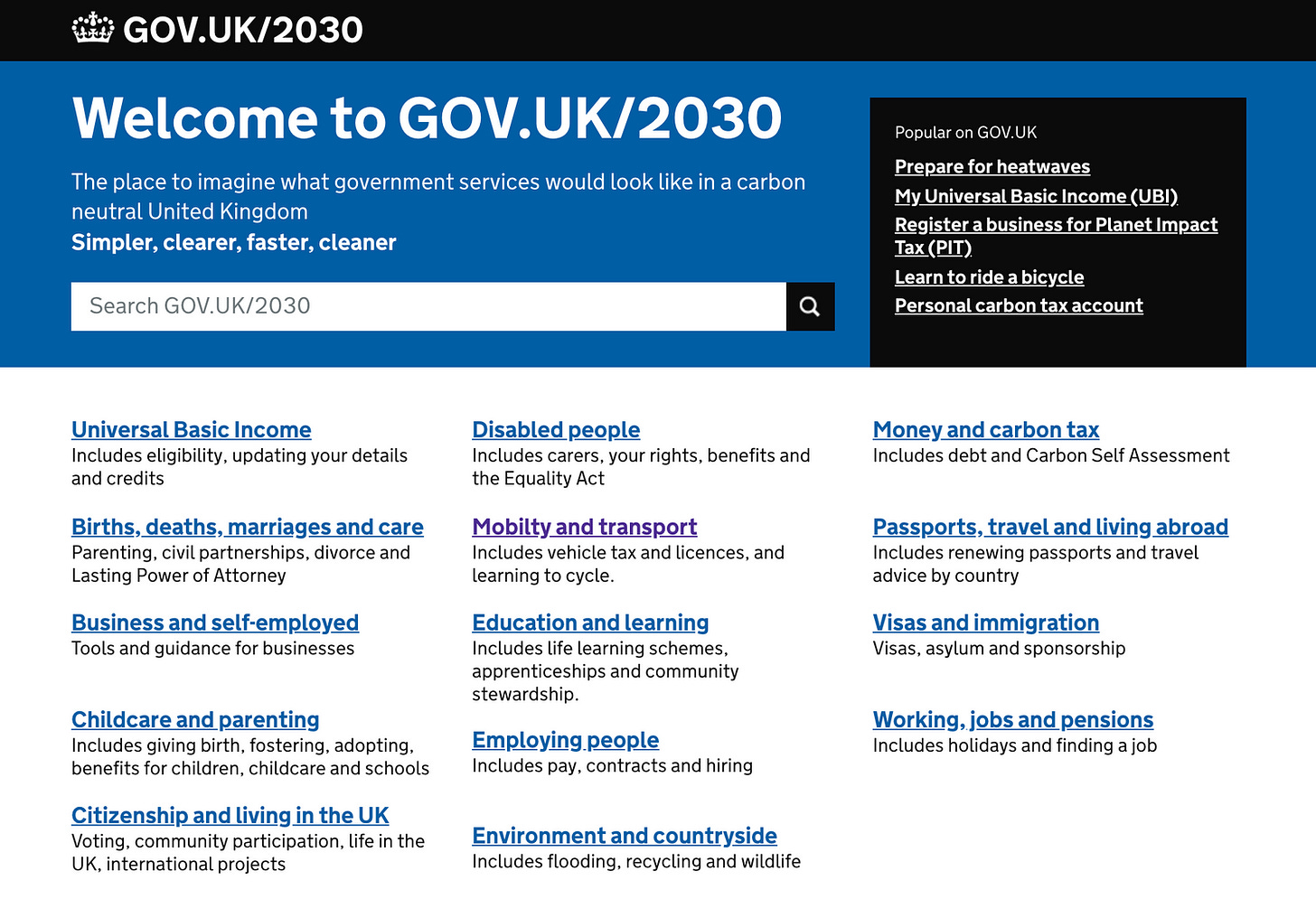 digital transformation vs actual transformation - from Becky Miller's reimagining of GOVUK
Are you in Berlin on Friday afternoon 29th November?
I'm working with some friends in the EdgeRyders, and Kathryn Hing, to organise Service Design in a Climate Emergency - a workshop for People Who Do Service Design* to discuss and work out the skills we might need to be able to face the unfolding climate crisis around us.
It's happening in Kreuzberg, in a nice space on the ground floor, and if you're in Berlin and free on the Friday, it's free to attend.
*because not everyone who does has "service design" in their job title.
Why run a workshop around this?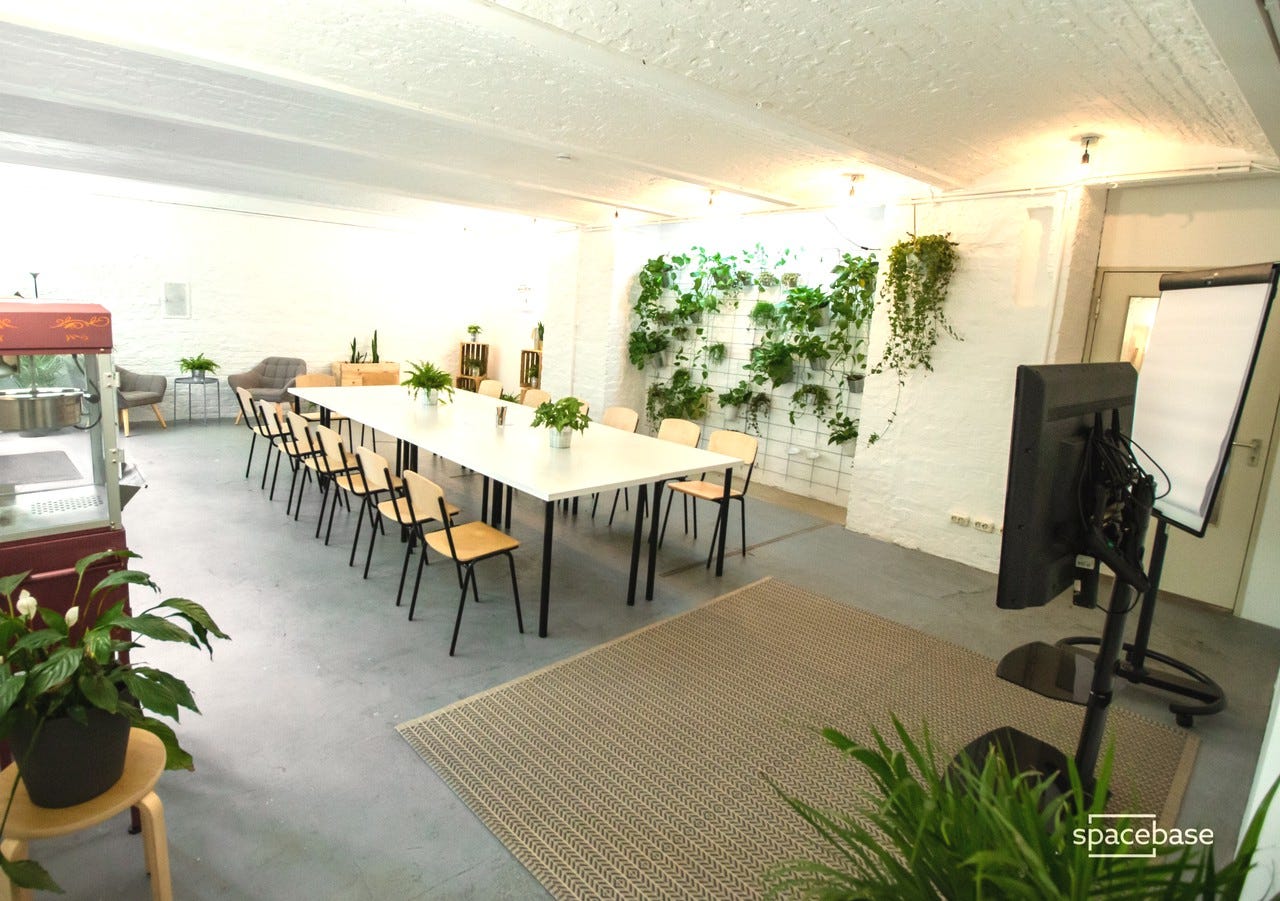 Here's the space.
Put simply, while increasing numbers of us work in digital fields, and recognise the challenges around reducing carbon that a changing climate represent - see the #designandclimate hashtag) - loads of us still are not building any significant skills or capacity to actually address this in a meaningful way.
So, if we can accept that we don't know yet what we need to know, then a useful next step is to identify the gaps in what we know.
We might need to think about how we'd have to deliver services in a world of legally binding carbon budgets. Or understand how already vulnerable people end up being exposed to even greater risks by the climate crisis.
If we know that, we can at least plan for it.
Well, that's the idea anyway. We still have a handful of spaces, and it would be great to have a few more join us!
You see some more here on the info page for the event,  and you can sign up through the registration form as well (please persevere, I know it's a pain).
3.2  Greening the Cloud
I've been working with The Green Web Foundation since March, trying to understand where some of the levers might be to help us understand and reduce the emissions from digital services. There's a load of good work out there we're finding. I wanted to share a few highlights.
AWS Green Cost Explorer - if you work in an organisation  that uses AWS, you can use this tool to query  Amazon's own APIs and get an idea of what percentage of your organisation's monthly bill is spent on infrastructure powered by fossil fuels. And move workloads away from fossil powered regions. 
Why would you do this? Here's Adrian Cockroft, a senior VP of Cloud at Amazon Web Services telling you why, at Mapcamp, conference I helped organise. This is what they're tracking, apparently.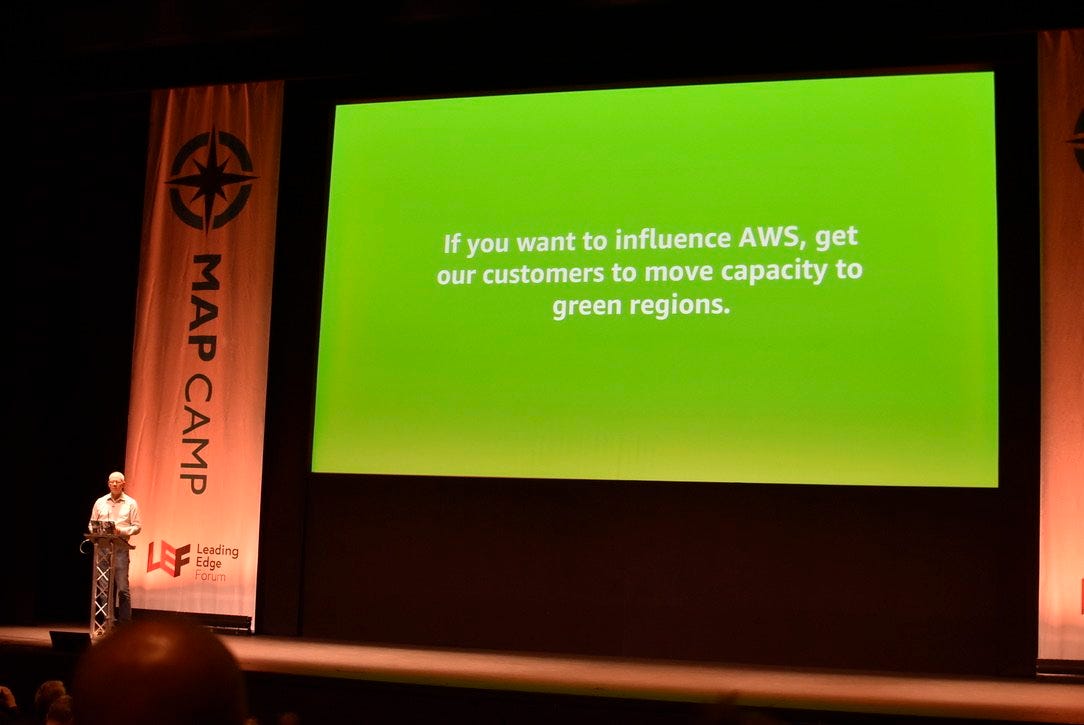 Alternatively, Microsoft and Google already have public commitments around decarbonising their cloud, and are making better progress as well as being more transparent about this. So, if you use them, this is effectively done for you.
The downside here is that all three huge companies aggressively chase oil and gas business, and fund climate denialists. They're so big now though, that we're often in a position in tech where you only get to choose two of the following three:
avoid fossil fuels

avoid oligopoly

avoid running everything in-house (which is often horrendously expensive)
Anyway, Green Cost Explorer is open source, and the team is looking for contributors. Check it out on Github.
Greening the web if you don't use AWS. As an aside, you can use The Green Web Foundation to check any site, to see how it's powered, or if you prefer, use the free API. If you build websites, you can audit any site you use to see how much of it relies on infrastructure that relies on green energy, with Greenhouse, a plugin we made for Google's Lighthouse, an open source web performance analysis tool.
Doing ML without the FML about the climate impacts of ML - There are some really interesting academic papers and software being released by the ClimateChangeAI group of late.
There's the original paper on how you can use it to help address climate related issues, but if you are a practitioner or educator, there's now software you can use to understand the energy usage of code you write, and subsequent CO2 emissions.
The accompanying paper, Energy Usage Reports: Environmental awareness as part of algorithmic accountability, is good, as well as teaching materials to incorporate into a curriculum for teaching.
How to purchase greener cloud services - if you control a budget and you purchase cloud services, there are two reports, released this year that are really worth checking out.
The first is a report from TechUK about attributing carbon to our use of cloud, and why it's so hard. The second is some useful guidance from the Green Electronics Council in the US, with guidance on the kinds of questions to ask and evidence to look for.
Reducing the emissions of cloud storage - if academic papers and accompanying software isn't enough, how about academic papers, software, hardware and a kickstarter about reducing impact from cloud storage?
One way that promises to reduce emissions by a stonking 77% compared to the normal providers is outlined in this paper, The carbon footprint of distributed cloud storage. What's more, they've even set up a crowd funder for the hardware they're manufacturing for it.
Rethinking the role of datacentres in cities - right now, most cloud computing happens in huge datacentres that are a bit like big box stores in retail parks. They spend loads of money getting rid of excess heat, because they're often miles away from anything. 
Another approach for datacentres is to design them so they complement urban environments, by being smaller and more distributed, and finding ways to reuse the heat they generate. After all, finding zero carbon sources of heat is the next challenge we face after electrifying transport. This whitepaper from the Sustainable Digital Infrastructure Alliance is a nice way into the concept.
3.3 The link grab bag
These didn't fit neatly into the topics above, but they seemed worth a look.
The Microsoft of 2019 is in many ways one of the better companies around when we talk about the behaviour of tech giants, and if you're subscribed to this letter, you may even know people who work there, or seen people congratulating someone getting a job there. This long article is a pretty damning account of the partnerships we're seeing when big tech chases big oil money. It's a taboo we're still terrible at talking about. 
80% of developers would do something unethical if asked at work, but here's why
This interview with Anne Currie has a pretty depressing stat that 80% of tech developers would do something unethical if asked, but the 25 minute long interview, is actually about the structures at work that lead to this happening, and steps to avoid it. For context, Anne is one of the folks behind the Sustainable Servers by 2024 petition.
Climate Just - a tool for understanding why some populations are more vulnerable to climate change than others
I found this in the past week. We have tools like consequence scanning as shared by Doteveryone, which help us have discussions about structural influences over what we work on, but this tool in the UK, looks really promising for identifying groups who might be harmed, by changes in how services work.
Local Authority Toolkit Launch - Cutting carbon while improving lives
There's an interesting report out aimed at local government for rethinking how public services are delivered to achieve climate goals, but also improve lives. It's accessible and uses language I wish designers working in digital companies knew how to use, as there are loads of useful concepts in it, with concrete examples. The day I see a service designer talking about co-benefits, I will dance.
3.4 Feedback
I'm  writing this with a friend of mine Martin Meyerhoff, and we're trying to figure out why people sign up for this, so we can get into a nice rhythm of sharing useful stuff, as there's loads we had to leave out this week. 
What made you sign up? What do you want to see covered in more detail here?
We'll be covering low carbon travel in a future session, and (fingers crossed), there'll be some new work about tracking carbon emissions at a project level for digital teams I think I'll be able share soon.
But if there's a burning issue you have, hit reply and let us know - we'll work it into the schedule (yes we have one now!)
Ta!